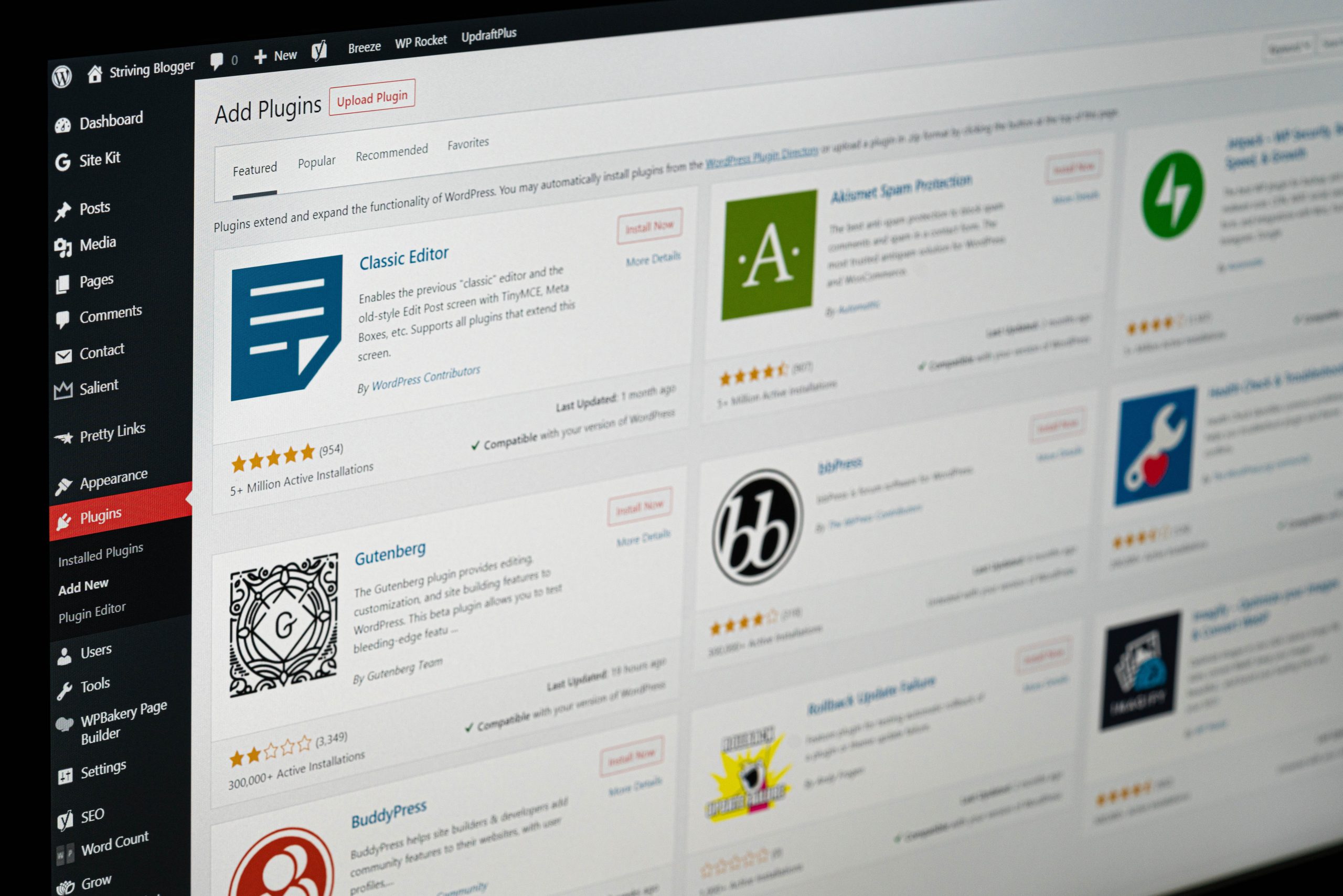 WordPress Plugin Pick List for E-Commerce Stores
There are a lot of plugins out there that can help you make your WordPress store more profitable. Here, I'll go over the best ones.
WooCommerce
WooCommerce is a free e-commerce plugin that allows you to sell anything, anywhere. It's the most popular e-commerce solution on the web and used by more than 28% of all online stores.
WooCommerce is a WordPress e-commerce plugin that allows you to sell anything, anywhere. It's used by more than 28% of all online stores and it's completely free!
WooCommerce Dynamic Pricing & Discounts
Dynamic Pricing & Discounts is a WooCommerce Plugin that allows you to create rules for discounts. It can be used for:
Price rules
Discounts
Coupons
Discount codes
It is possible to apply these discounts based on: the quantity of products purchased, specific products or product categories, customer groups and even user roles. You can also choose whether or not to include free shipping as part of your discount. There are different types of discounts available such as fixed price (eg 10%), percentage off (eg 20%), weight-based discount (eg $5 per 100g) and free shipping thresholds where customers will get a certain percentage off their order if they spend over $100 or $200 etc..
WooCommerce PDF Invoices & Packing Slips Premium
WooCommerce PDF Invoices & Packing Slips Premium is a premium extension for WooCommerce that helps you generate invoices, packing slips, and delivery notes. The plugin can be used with the free version of WooCommerce to create custom invoices and packing slips. It also works with Easy Digital Downloads and other plugins to create custom invoices and packing slips.
The plugin gives you the option of creating invoices using either your theme's core design or a pre-designed invoice template with multiple templates available for purchase from the developer's website (30 days free trial).
YITH WooCommerce Wishlist
YITH WooCommerce Wishlist is a plugin that lets customers save items for later, share their wishlists with others and create wishlists for others to purchase.
The plugin also allows you to set up custom rules for how saved products are displayed and how they can be purchased.
You can easily show or hide the wishlist feature on your product detail page, cart page, checkout page and more.
Abandoned Cart Recovery
If you are an ecommerce store owner who has abandoned carts, then this is a must-have plugin for your WordPress site. The Abandoned Cart Recovery plugin helps you to automatically recover these abandoned carts by sending a reminder email to customers who have left their carts without making any payment. This feature can be extremely useful in boosting sales and increasing revenue from your online store.
The plugin also has another useful feature called Follow Up Email which allows you to create follow-up emails that are sent after specific intervals of time (e.g., 48 hours) after the original checkout page was closed by the customer so that they have time to think about their purchase decision before actually making any purchases on your website again.
Yoast SEO
Yoast SEO is the WordPress plugin to have if you want to optimize your website for search engines.
It helps you with:
Site optimization (SEO) for search engines, so that people can find your site when searching in Google and other search engines. This includes optimizing titles, meta descriptions, headings, URL structure etcetera.
Content optimization by analyzing the readability of your content, writing more readable content and checking for plagiarism. It also automatically generates a table of contents for posts so that readers can easily navigate through them.
Media optimization by analyzing whether images are optimized for SEO or not (e.g., having alt tags).
UpdraftPlus WordPress Backup Plugin
UpdraftPlus is a free backup plugin that allows you to easily create backups of your site. It's available on WordPress.org and can be installed from the Plugins > Add New screen in your dashboard. Once activated, it will show up under Settings > UpdraftPlus Backups.
This plugin will allow you to take regular backups of your entire site or just certain parts of it, and then those backups can be stored locally or in the cloud (Dropbox, Google Drive and others). You set what gets backed up by adding rules, so if only one specific page needs daily backups or if only posts published today should be kept forever then all you need to do is add those conditions into the settings page and they'll be saved automatically when needed.
Updraft Plus also has some paid plans that offer more advanced features such as image rotation during automatic FTP uploads which can come in handy for e-commerce stores selling products with multiple images per product listing
OptinMonster
OptinMonster is a plugin that helps you grow your email list. It can be used as a popup, modal, slide-in, or lightbox.
The installation process is simple and straightforward. Once the plugin is installed and activated in WordPress, you can start creating different types of opt-in forms for your website by adding new campaigns from the OptinMonster dashboard or by clicking on "Create New Campaign" button which will take you to their builder tool where you can select different types of opt-in forms such as:
Text Boxes
Video Players
Image Captchas
Countdown Timers
HTML5 Audio Players
Smush Pro
If you are an e-commerce store owner, then you will understand the importance of having fast loading website. No one likes to wait for ages while browsing through a website and Google has made it clear that fast loading webpages are more likely to rank high in search results.
Smush Pro is a popular plugin among WordPress users because it helps you to optimize your images without losing their quality. It makes sure that the size of each image is reduced without compromising quality as well as removes any unnecessary bytes from them so that they take up less space on your site. This way, it reduces page load time which will result in higher ranking on Google and other search engines as well as leads to increase in bounce rate due to better user experience on your website.
Google Analytics Dashboard for WP by ExactMetrics (formerly GADWP)
Google Analytics Dashboard for WP by ExactMetrics (formerly GADWP) is a plugin that helps you track your store's performance. You can see which products are selling and which aren't, as well as how many customers have purchased them. This tool also gives you access to other useful data, including:
The amount of time users spend on your site
Which marketing campaigns are working or not working, and where they're being seen (i.e., social media platforms, search engine results pages, etc.)
Which products are purchased together
CTX Feed Pro
CTX Feed Pro is a feed management plugin that helps you manage your feeds in one place.
It's a premium plugin, which means it costs money to use it and you'll need to purchase a license if you want to add more than one feed to your site. This can be good for beginners who are just getting started with their e-commerce site since there's no risk involved (and no need for technical expertise). The paid version also includes support, updates and more functionality than the free version does.
WP Inventory Manager
WP Inventory Manager is a powerful inventory management plugin for WordPress. You can create and manage your inventory, add items to your catalog, import products from CSV files, import products from Amazon or eBay, export products to CSV files or Excel spreadsheets and make backups of your data.
Create price lists with unlimited product categories. Display them as widgets on any page or post in WordPress via shortcodes. Show the price list on demand using a simple shortcode like [wp-inventor-list]. The plugin also includes an efficient search feature that allows you to find products by keyword in seconds!
Conclusion
With so many eCommerce plugins for WordPress and so little time, it can be tricky to choose which one to use. We've rounded up some of our favorites here, but as always, feel free to reach out if you have any questions about how they work or how best to implement them.